Dear members,
Spring is already peeking around the corner and our first ride is coming up! Rob Köller has again put together a great route for our traditional Fréijoerstour. You will find more information below.
New membership card 2023
Have you already received your new membership card? We were able to hand out a few at our General Assembly and some of you have already transferred your dues. For the rest of you, please find below the information on how to pay your membership fee.
Ardennen MeetinG
The preparations for our show at the Diekirch CNVH are in full swing, and the Ardennen MeetinG is also in the starting blocks. Have you already been to our website www.ardennenmeeting.lu? As always, we have several options for accommodation – from hotels, to your own accommodation at home, everything is possible. So far we already have 30 registrations – more info on the website, you can also register there.
Calendar 2023
But let's have another look at the highlights in the calendar: on 9 April the "Car Sonndig" will take place again in Echternach, on this day the whole city centre of Echternach will be closed, and filled with old and youngtimers of all kinds. Altough it's not an MG Car Club event, our colleagues from the MMM Club have always had a stand on the market square in previous years. It's worth to go and spend the day there.
We continue on 15 April with the Fréijoerstour, and on the following Tuesday we meet again in Brouch at the Relais Bausch.
Next on the list are the Highland Games at the end of April, and on 9 May we open the exhibition in Diekirch at the museum.
The last MG Car Club event in May is the Kniwweldag on 14 May, you can register with Rob Köller.
And last but not least we would like to recommend the MG & Triumph 100 weekend at Silverstone, some teams from our club have already booked their tickets – a good opportunity to join us if you have not been to the UK yet.
As you can see we have many top events in the calendar, there should be something for everyone this year. We hope you enjoy yourselves and have a safe journey.
MG Car Club Fréijoerstour
Saturday, 15 April 2023
Meeting point from 9:00 am at the Foyer Ste Elisabeth in Mondorf, 6 avenue Marie Adelaïde. Here we will start with coffee and croissants, and the roadbooks and lunch packs will be distributed.
First, we will go for a short drive with the residents of the old people's home, who are always thrilled to ride in beautiful old cars.
Our drive will then take us along the vineyards for a bit along the Moselle, but then we will head towards the Sauer. In Rosport we cross the border into Germany and drive to Kordel in the Kyll valley, where we stop for lunch at Ramstein Castle. There is also a restaurant at the castle, and anyone who wants to can go up there.
After lunch we will drive through Trier towards Saarbrücken and on to Losheim and Mertzig. Here we will take part in a guided tour of the "Werner Freund" wolf park.
We then continue towards France, where we enjoy a beautiful view of the castle of Manderen on the way. The tour ends at the restaurant "Clos de la Ravine" in Apach, where we will be spoiled with a 3-course menu.
On the menu are:
Tresse de sandre et légumes sauce Noilly Prat
Pavé de veau en croute d'herbes et champignons
Vegetarian alternative : Tartiflette au fromage fermier, légumes rissoles
Trilogy gourmande
Registrations by 12 April by transferring the participation fee of 50 € to the following account
CCPL LU24 1111 0455 1825 0000
of the MG Car Club Luxembourg.
The price includes breakfast, roadbook, packed lunch, a visit to Wolfspark and dinner. For further information, please contact Rob on
621 371 084, or by e-mail at robko@pt.lu.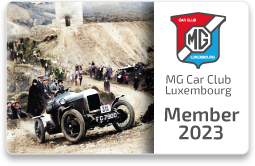 Membership fee 2023
Some of you have already paid the membership fee for 2023.
A big THANK YOU from the board of the MG Car Club Luxembourg.
If you have not yet paid your subscription, we would like to remind you to pay the amount of 25 € for the year 2023 into our bank account at the post office:
MG Car Club Luxembourg
LU24 1111 0455 1825 0000 BIC Code : CCPLLULL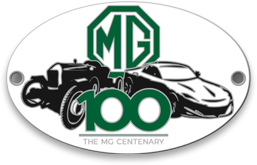 MG100 Enamel Signs
Our friends from the MG Owners Club Austria have had beautiful enamel signs made for the MG anniversary, which we would like to offer you here! The sign is approx. 3 mm thick and has an oval shape (85mm x 55 mm), and is provided with 3 holes for countersunk screws.
The international MG100 logo looks particularly good on it. For our members, the plates are available at a price of 45 €. Please contact us at mg100@mgcarclub.lu.